150L Air Cooled Temperature Humidity Testing Chamber

Product Application

Temperature and humidity test chamber is also called temperature and humidity
testing machine, constant temperature and humidity experimental chamber, programmable wet heat
alternating test chamber, or constant temperature machine. The Temperature and humidity test chamber
is used to inspect equipments quality and test performance of materials in various environments,
and all kinds of materials properties of heat resistance, cold resistance, dry resistance and
moisture resistance, which is fit for Electronics, electrical appliances, mobile phones, communications,
meters, vehicles, plastic products, metals, food, chemicals, building materials, medical, aerospace and
other products quality inspection.
Prouduct Feature

Using the internal pressure box, SUS304# stainless steel tank.

Various protection facilities, configure the wireless remote alarm device

Double door sealing structure, adjustable locking mechanism.

The box adopts LCD LCD touch screen, there is trouble to talk menu, the trouble of the interpretation of

the interpretation of the failure.

The refrigeration compressor and key accessories are all imported from internationalbrands.Environmental

protection cold media refrigeration, in line with international environmental protection convention requirements.

Various optional accessories: rs232/485 communication interface, record printer, remote temperature

control system (including communication software, computer printing, etc.).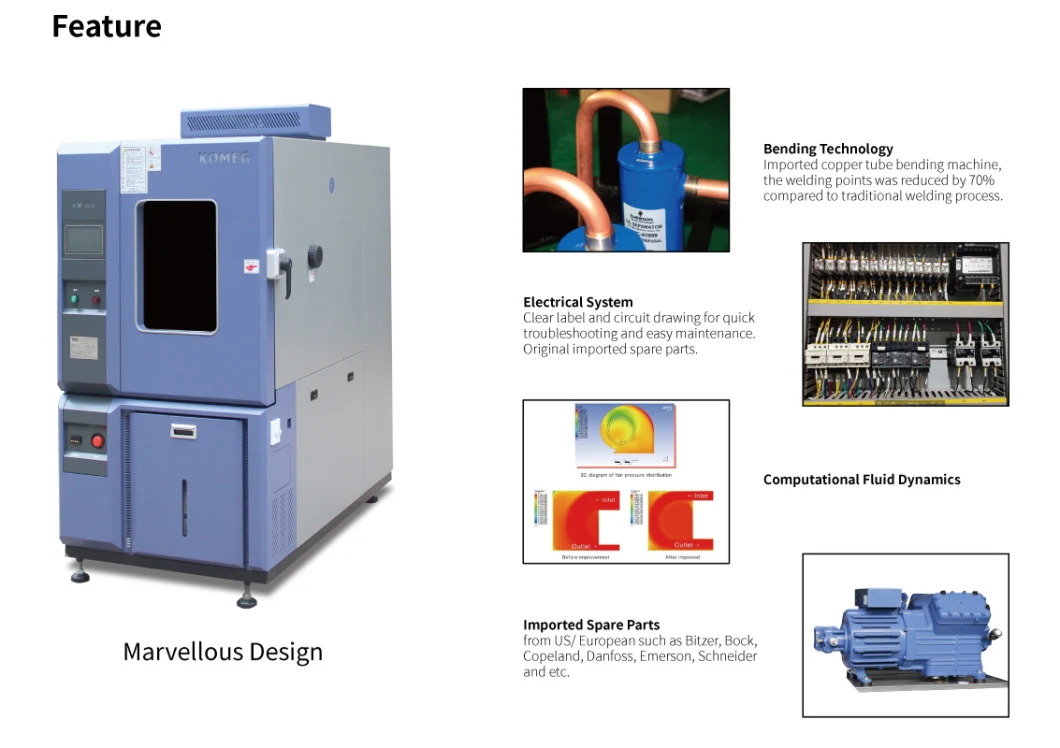 Prouduct Specifications
Test Conditions

Cool method: air-cooled

Measured at a room temperature of +25 ºC under no load, the temperature and humidity performance test is measured according to the relevant regulations according to IEC 60068 -3; the sensor is placed at the air outlet of the air handling unit

Temperature range
-40ºC ~ +150ºC
Temp. fluctuation
±0.5ºC
Temp. uniformity
<=2.0ºC
Temp. deviation
<=±2.0ºC
Temperature change rate
Heat up rate: -40 ºC ~ +150 ºC, full range average speed approx. 45min; (empty load)
Cooling rate: +150ºC ~ -40ºC, full range average speed approx. 60min; (empty load)
Load
none
Humidity range
20~85%R.H.
Temperature & Humidity Control
Humidity Deviation

±3.0%RH (>75%RH)

±5.0%RH (≤75%RH)

Humidity Uniformity
±3.0%RH (empty load)
Humidity Fluctuation
±2.0%RH
Noise
<=75 (dB) (The noise detection device is measured 1m away from the door of the chamber)
Construction type

One-piece structure

The test chamber consists of three parts: the main insulation box, the independent refrigeration unit, and the electrical control cabinet.

Thermal insulation structure
Outer spray plastic anti-corrosion electrolysis plate - intermediate insulation layer is temperature resistant foam insulation material - inner box SUS304 stainless steel plate

4.3 Exterior

material

High-quality anti-corrosion electrolytic board, surface electrostatic powder baking paint, KOEMG standard color
Interior material

SUS304 stainless steel, thickness=1.0 mm; inner wall full-welded

Insulation
Rigid polyurethane foam insulation layer, thickness = 100mm, flame retardant grade B2

Door

Full side open door, left open;

The door frame is equipped with silicone rubber sealing strips and anti-condensation electric heating device to prevent external condensation;

Observation window

Observation window on the door (size of W330*H450mm)

Multi-layer vacuum glass window with electronic defogging film for heat and sweat protection, and prevents condensation.

Control panel
Temperature (humidity) control touch screen display, start switch, emergency stop switch, buzzer
Refrigerant unit

Including:

Refrigeration unit, drainage devices and pipes, cooling fan, power distribution control cabinet

Humidification and water supply waterway control system

Distribution cabinet

Distribution board

Small cooling fan

Total power leakage circuit breaker

Standard configuration

Cable port: dia.50mm*2 with silicone plug on both side, each side with 1 hole (confirm after contract signing)

Sample holder: 2 layers of drawer stainless steel sample holder, bearing capacity 30KG/layer

Window light: 1 ea (DC 24V LED light) (installed on the window, the switch is set on the external PLC touch screen, and has a delay automatic shutdown function)

Moving casters (with foot cups): 4 ea
Environmental test chamber Standard
GJB150.3 high-temperature testing
GJB150.4 low-temperature testing
GJB150.9 humid testing
GB11158 Technical conditions for high-temperature testing box
GB10589-89 Technical conditions for low-temperature testing box
GB10592-89 Technical conditions for high and low temperature testing box
B/T10586-89 technical conditions for humidity testing chamber
GB/T2423.1-2001 Low-temperature testing methods
GB/T2423.2-2001 High-temperature testing methods
B/T2423.3-93 Testing Method for humidity Test Chamber
GB/T2423.4-93 Alternating hot and humid testing method
GB/T2423.22-2001temperature testing method
IEC60068-2-1.1990 low-temperature testing method
IEC60068-2-2.1974 high-temperature testing method







Pre-sales service

1) More than 20 years manufacturer experience and 8 years export experience.

2) Acceptable customization for all kinds of special specification products.

3) We value very inquiry sent to us, ensure quick and competitive offer.

4) We put your order into our tight production schedule,ensure your punctual delivery time.

5) We are a sales team, with more than 4 years experience, more professional and reliable.

6) Welcome to view our factory at any moment .



After-sales service

1) We deal with your complains within 24 hours.

2) Training how to install the machine, training how to use the machine.

3) Engineers available to service machinery overseas.

4) All staffs in our company with philosophy of " integrity, dedication, truth-seeking, enterprise", would be

dedicated to provide high quality service and products for you.