Recommend moisture-proof packaging solutions for you~
Moisture-proof vacuum bag,
also known as Aluminum foil bag, Aluminum-plastic composite vacuum bag, vacuum bag, moisture-proof bag, using imported high quality raw materials formed a production by automatic assembly line, the bag with a standard of moisture-proof logo, has six functions of anti-static, resistance of the electromagnetic interference and moisture proof, high barrier, with good puncture ability of water proof and oxygen proof. The bag should passed the GB & ASTM test and satisfied the strictest environmental protection standard of packing materials in EU and North America. It suitable for the electronics packing that has the requirement of moisture proof. Surface resistance is 108-1010Ω, static release time is less than 0.05 seconds.

Theory:
Moisture-proof vacuum bag can protect electrostatic sensitive components from potential damage. Its special four-layer structure can create such effect as an inductive cover to separate the goods inside the static field. Besides, the innermost layer is made up of polyethylene that can prevent the static inside the bag, this heat-sealing bag is transparent, so that we can identify the internal items from the outside.
Features:
With excellent performance of anti-static, moisture proof and electrostatic shielding, high mechanization degree and heat sealability.
The size of product is not restricted, can be customized the packing bag according to customer's requirements of different size and style. There are
many kinds of aluminum-plastic composite packaging like flat bags, three-dimensional bags, accordion bags,etc. We will provide bags according
to customer's requirements of product's shape. In strict accordance with the standards of GB/T 1037-1988, GB/T 1038-2000, MIL-B-81705-C for
the production.
Material:
Thickness
140±10μm (Total thickness of layer of glue and static is 5-10μm) Z
Physical properties
Material
Parameters
Lay 1
Polyester (PET)
12μm
Lay 2
Aluminum foil (AL)
7μm
Lay 3
Nylon (NY)
15μm
Lay 4
Polyethylene (PE)
100μm

Anti-static & moisture proof bag technical specification:
No.
Test item
Technical requirements
Test standard
Performance of
Anti-static
1x105Ω<resistance of outer surface<1x109Ω
1x105Ω<resistance of internal surface<1x1011Ω
Metal layer<1x100Ω
ANSI/ESD STM 11.1
Friction voltage: <100V
ESD ADV 11.2
2
Electrostatic shielding
Remanent shield voltage: <20V
EIA 541
3
EMI Attenuation
>60 dB
MIL-PRF-81705
4
Life time
After using 1 year, still meet the requirements of No. 2/3/4
MIL-PRF-81705
5
Structure
PET/ AL/ NY/ PE
6
Thickness
> 0.14 mm
7
Size
Refer to drawing's marks
8
Heat-seal strength
> 30N/ 15mm
9
Tensile strength (vertical and horizontal direction)
Vertical >75N/ 15mm
Horizontal >85N/ 15mm
10
Heat-seal condition
Temperature: 300-400F
Time: 0.6-4.5 seconds
Pressure: 30-70 PSI
11
Peel strength
>3.0N/ 15mm
12
Puncture resistance
>100N
MIL-STD-3010
13
Water vapor permeance
J-STD-033 0.002mg/100 in2 /24h
ASTM F 1249-13
Measure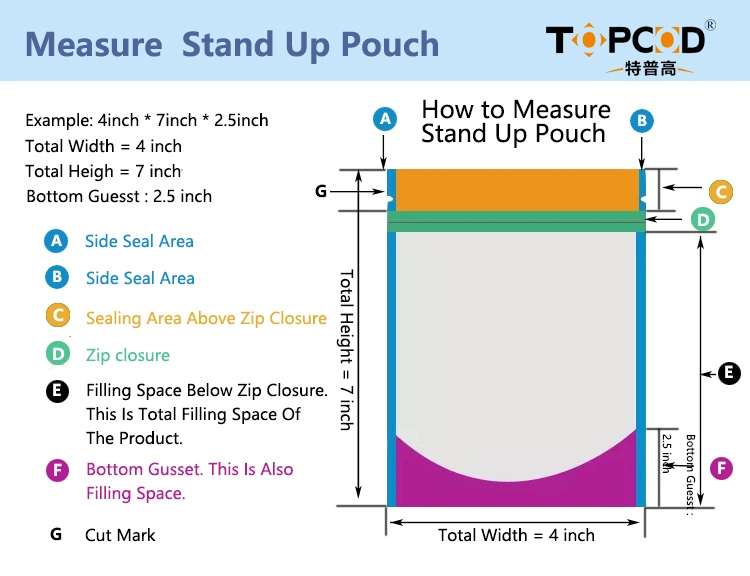 Applications:
Mainly applicable to all kinds of packing of PC Board, electronic components, modems, CD-Rom, electronic industry component protection, Fiber
optics components, Telecommunications and radio communications, Medical industry, disk drive and automative manufacturing etc .



Advantage: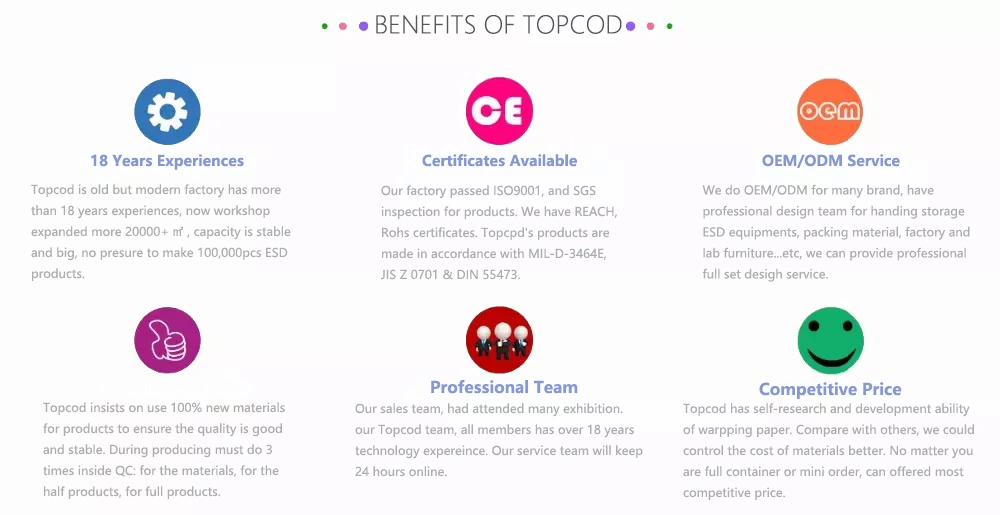 For TOPCOD
Why did you choose us?

Why choose us?

1-18 years experience in desiccant industry,including 1500-plus customers as far as 2019. Topcod has already established long-term cooperation with more than 100 well-known enterprises and brands.



There are 1500-plus customers as far as 2019. Topcod has already established long-term cooperation with more than 100 well-known enterprises and brands.

We were established in 2004, and set up branches in Shenzhen, Shunde, and Germany. We are a high-tech enterprise integrating scientific research, production, marketing, technical services, packaging consulting, quality testing, and providing solutions.
2-OEM/ODM available.
3-Eco-friendly.
4-Free sample and fast delivery time
5-SGS, MSDS, REACH, RoHS, DMF free approval. Most importantly, we have silica gel REACH registration.
6-Technique research development---Participate in formulating and revising industry standard and national standard about desiccants & oxygen absorber, organizing colloquias with leading enterprises in various industries, providing professional solutions.

7-Independent research and develop wrapping paper of desiccants---Detuch paper(which is eco-friendly, water-proof, dust-proof, smooth, lint-free)
8-Workshop Display - more than 200 desiccants' machines. Foshan, Shanghai, Shenzhen, HongKong, Germany all we have set sales and branch services can satisfy your requirement.
Lab and Workshop display:




TOPCOD always adhere to the belief that,
Only improve and explore the technology,
Can we mrrt customers needs,
Can we keep pace the times,
Can we lead the way in this industry all the time......

Owns advanced mechanized production line
Combines R&D, production and sale together

Other product range:
Industrial desiccant (silica gel desiccant / montmorillonite desiccant / activated clay desiccant);
Food & pharmaceutical grade desiccant;
Deoxidizer (Oxygen scravenger/absorber);
Activated carbon deodorant;
Humidity Indicator Card (HIC);
Esd aluminum foil bag / Vacuum bag / VCI bag / rust proof bag (film);


Product quality meets requirements!!!
Hurry and contact us!