1.Product Introductions:
Silica Gel

is a granular, vitreous, porous form of silicon dioxide made synthetically from sodium silicate. Silica gel contains a nano-porous silica micro-structure, suspended inside a liquid. Most applications of silica gel require it to be dried, in which case it is called silica xerogel. For practical purposes, silica gel is often interchangeable with silica xerogel. Silica xerogel is tough and hard; it is more solid than common household gels like gelatin or agar. It is a naturally occurring mineral that is purified and processed into either granular or beaded form. As a desiccant, it has an average pore size of 2.4 nanometers and has a strong affinity for water molecules.

Orange silica gel,
also known as "cobalt-free color-changing silica gel", is also an environmentally friendly desiccant and belongs to silicone products. The appearance is orange or translucent glass-like particles. It has strong moisture absorption capacity and its appearance color will produce obvious color changes with the increase of moisture absorption during the moisture absorption process.It can be used as a raw material for environmentally friendly desiccants.
But not only that, blue silica gel is also possible.
Blue silica gel, also call "Color-changing silica gel "
is an indicator adsorbent with high added value and high technical content after deep processing, which is made from fine porous silica gel, a highly active adsorbent.
Blue silica gel
is ideal as a primary desiccant or blended with other desiccants in any application where visual control of moisture is required. sSORB silica gel beads are saturated with a moisture indicating solution that gives them a deep blue color when dry. The color changes from blue to purple to pink as it adsorbs moisture.

2.Technical Data:
| | |
| --- | --- |
| Item name | silica gel raw material |
| Material | Silica gel |
| Color | White ,orange or blue |
| Diameter | 1-3mm,2-4mm,3-5mm,0.5-2mm are available |
| Packing material | Fiber bag |
| Packing way | 25kg/fiber bag |
| Shape | Ball or broken |
3.Silica Gel's Chemical Components:
| | |
| --- | --- |
| Chemical components | Percentage(%) |
| SiO2 (wt%) | 99.7 |
| Fe2O3 (wt%) | 0.01 |
| Al2O3 (wt%) | 0.09 |
| CaO (wt%) | 0.15 |
| MaO2 (wt%) | 0.05 |
4

.Application:
Drying and cleaning of air and gases

Drying of analytical samples

Drying of solvents

Drying of synthesis products

Optical instruments and devices

Protection of Export Consignments from moisture in salty atmosphere

Drying and storage of Flowers and Seeds
Desiccant in gas industry, dehydration and purification in Oxygen, Hydrogen and Chlorine,

In steel refinery industry and oxygen plant ,it can be used to remove ethane from oxygen. Etc

Silica Gel is also used in Dehumidifier. Desiccant Dehumidifier white silica gel is used.

Silica Gel is also used in Analysis of Chemicals.

5

.What type of products Silica Gel White & Silica Gel Blue can protect?
Silica gel can be used to protect a variety of items from moisture. The list below represents some commonly protected items.
Tool boxes

Storage containers

Safes and vaults

Silver drawer

Firearms

Photos

Stored vehicles

Cargo holds on RVs, boats, etc

Collectibles (stamps, coins, etc.)

Computer
Metal and machine parts

Industrial equipment

Pharmaceuticals and vitamins

Electronics

Military instruments

Circuit Boards

Documents

Instruments

Photographic equipment and film
Foodstuffs

Batteries

Pet foods

Optical devices

Medical equipment

Leather products

Textiles

Seeds

Jewelry
Orange silica gel is an indicative desiccant, it can be mixed with white silica gel. When orange silica gel absorbs moisture, it will turn green.

For TOPCOD
Why did you choose us?
Why choose us?
1-18 years experience in desiccant industry,including 1500-plus customers as far as 2019. Topcod has already established long-term cooperation with more than 100 well-known enterprises and brands.

There are 1500-plus customers as far as 2019. Topcod has already established long-term cooperation with more than 100 well-known enterprises and brands.

We were established in 2004, and set up branches in Shenzhen, Shunde, and Germany. We are a high-tech enterprise integrating scientific research, production, marketing, technical services, packaging consulting, quality testing, and providing solutions.
4-Free sample and fast delivery time
5-SGS, MSDS, REACH, RoHS, DMF free approval. Most importantly, we have silica gel REACH registration.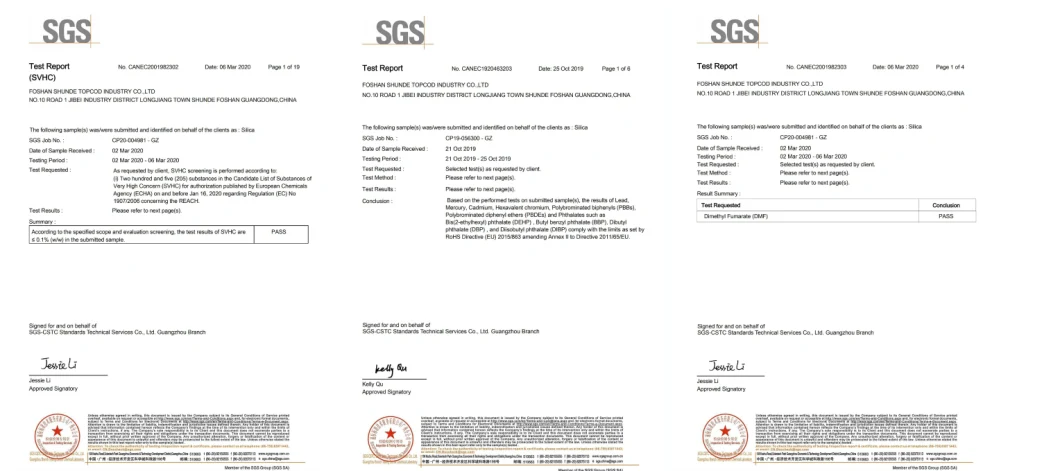 6-Technique research development---Participate in formulating and revising industry standard and national standard about desiccants & oxygen absorber, organizing colloquias with leading enterprises in various industries, providing professional solutions.

7-Independent research and develop wrapping paper of desiccants---Detuch paper(which is eco-friendly, water-proof, dust-proof, smooth, lint-free)
8-Workshop Display - more than 200 desiccants' machines. Foshan, Shanghai, Shenzhen, HongKong, Germany all we have set sales and branch services can satisfy your requirement.
Lab and Workshop display:



TOPCOD always adhere to the belief that,
Only improve and explore the technology,
Can we mrrt customers needs,
Can we keep pace the times,
Can we lead the way in this industry all the time......

Owns advanced mechanized production line
Combines R&D, production and sale together

Other product range:
Industrial desiccant (silica gel desiccant / montmorillonite desiccant / activated clay desiccant);
Food & pharmaceutical grade desiccant;
Deoxidizer (Oxygen scravenger/absorber);
Activated carbon deodorant;
Humidity Indicator Card (HIC);
Esd aluminum foil bag / Vacuum bag / VCI bag / rust proof bag (film);



Product quality meets requirements!!!
Hurry and contact us!