Environment Chamber Simulation Constant Temperature Humidity Testing Chamber
Product Description:
Temperature Humidity Test Chamber is designed for testing the capability of heat-endurance, cold-endurance, dryness-endurance, and humidity-endurance, suitable for quality control of the industries of electron, electrical equipment, vehicle, metal, foodstuffs, chemistry, building materials, luggage, adhesion tape, printing, packaging, etc.
Principle:
The machine adopts Chinese and English touch screens, multiple sets of PID control functions, and RS-232C / 404C connected to the computer interface control. It can simulate different environmental conditions such as high temperature, high humidity, low temperature, high humidity, low temperature, low humidity, high temperature, and low temperature. It is also equipped with a highly accurate programming control and fixed-point control system that is easy to operate and learn. It is being identified and translated online.
Standard Features:
| | |
| --- | --- |
| Model | HD-E702-408K20 |
| Capacity | 408L |
| Internal dimensions | 600mm*850mm*800mm(W*H*D) |
| External dimensions | 850mm*1750mm*1710mm(W*H*D) |
| Temperature Range | -40ºC ~ + 150ºC |
| Humidity Range | 20%~98%RH |
| Temperature resolution | 0.01ºC |
| Humidity resolution | 0.1%R.H |
| Temperature deviation | ±0.5ºC |
| Humidity deviation | ±2%R.H |
| Temperature uniformity | <= 2ºC |
| Humidity deviation | ±3%R.H |
| Temperature fluctuation | ±0.5ºC |
| Humidity fluctuation | ± 2%R.H |
| Heating rate | >= 3ºC / min(-70ºC → + 150ºC) |
| Cooling rate | >= 1ºC / min(150ºC → -70ºC) |
| Compressor | Imported French Taikang fully enclosed compressor |
| Refrigerant | Environmental protection refrigerant R404A/R23 |
| Cooling method | Single-stage cooling |
| Blower | Centrifugal fan with forced circulation |
| Evaporator | Finned tube heat exchanger |
| Condensation method | Air-cooled |
| Condenser | Air-cooled scale condenser, cooling fan cooling |
| Filter drier | Absorbs residual moisture and acidic substances in the refrigerant of the refrigeration system, and filters out solid rest particles and copper shavings in the system to protect the normal operation of the expansion valve and capillary from ice and dirty plugging |
| Humidification system | Stainless steel humidifier |
| Heating system | Nickel chromium alloy stainless steel heater |
| Water supply system | Front-mounted water supply tank, automatic water supply system |
| Controller | Taiwan Visuo Controller |
| Setting method | Chinese / English interface, touch input |
| Operation mode | Program method / fixed value method |
| Predetermined area | Maximum temperature range: 5 ºC |
| Storage function | Standard configuration 2G SD card to record test data curve, can upload and download data, expand storage capacity |
| Safety protection measures | The overall equipment is over temperature, the fan is overheated, the overall equipment is under-phase / reverse-phase, the refrigeration system is overloaded, the refrigeration unit is over-pressured, the overall equipment timing, leakage, operation indication, automatic shutdown after failure alarm, etc. |
| Case shell | High-quality cold-rolled steel plate electrostatic spray (1.2mm thick) |
| Chassis inner wall | SUS304 # stainless steel plate (1.2mm thick) |
| Insulation material | 100mm polyurethane rigid foam + 100mm high density glass fiber cotton |
| Standard configuration | φ50 test hole, lighting lamp, double-layer vacuum strengthened glass observation window |
| Weight | 360kg |
| Electric current | 22A |
| Power | 8.5kw |
| Power supply | Three phase, 380V |
(

The table parameters for the company Standard Model parameters, we support customer customization parameters)
Advantage:
1.Fully enclosed structure, low noise refrigeration equipment, with anti-shock system. So that constant temperature and humidity in the detection process more quiet and stable.
2.A variety of protection devices, safe and reliable performance.
3.3 layers of vacuum tempered glass window.
4.Economic and efficient
5.Intelligent programming operating system
6.Humanized box structure design.ultra-thin controller in the middle, the box is narrower, save space.
Chamber Design Function:
High performance and quiet operation (68 dBA)

Space-saving designed for flush installation to wall

Full thermal break around doorframe

One 50mm diameter cable port o left, with flexible silicone plug

Direct water supply connection for continuous operation

Accurate wet/dry-bulb humidity measurement system for easy mantain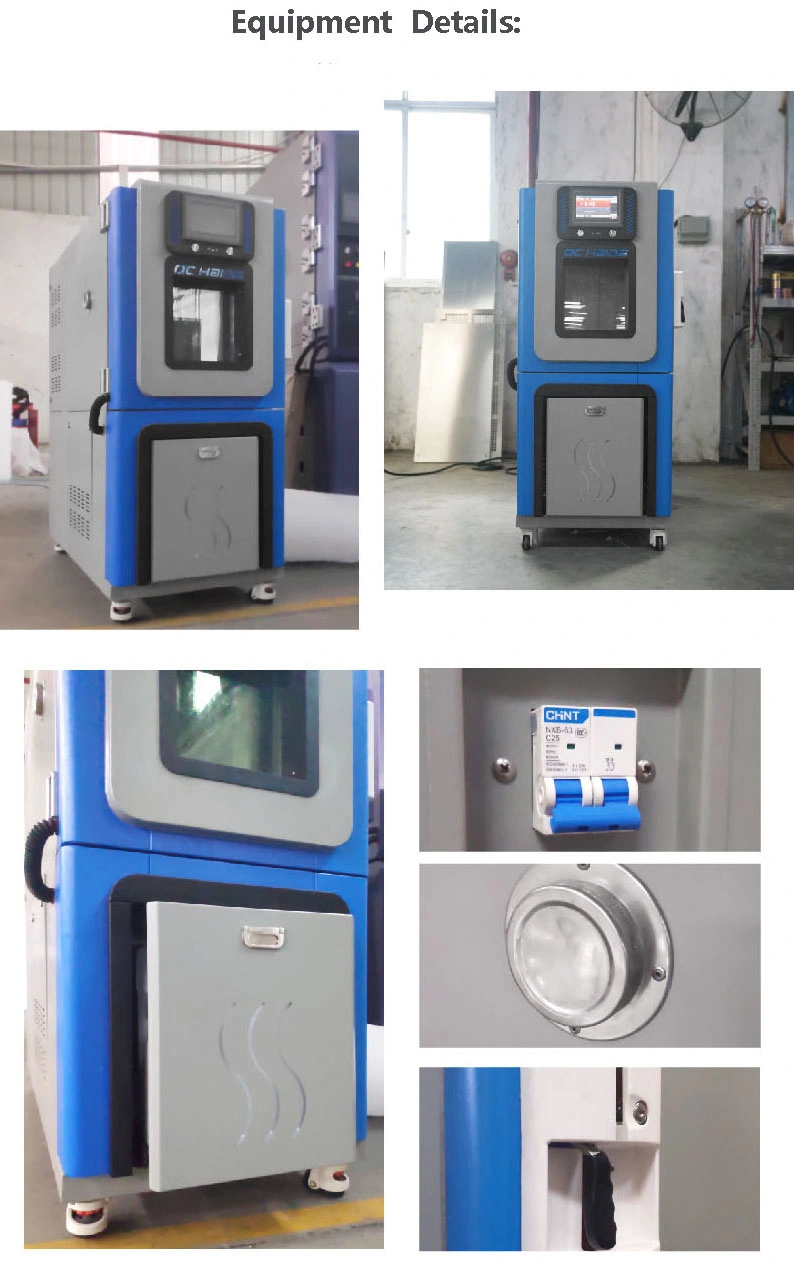 Test items: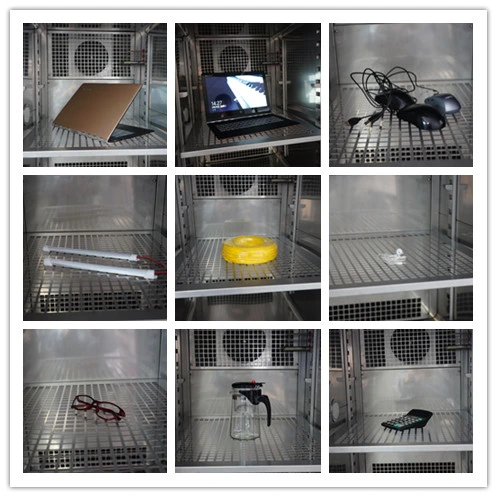 Software: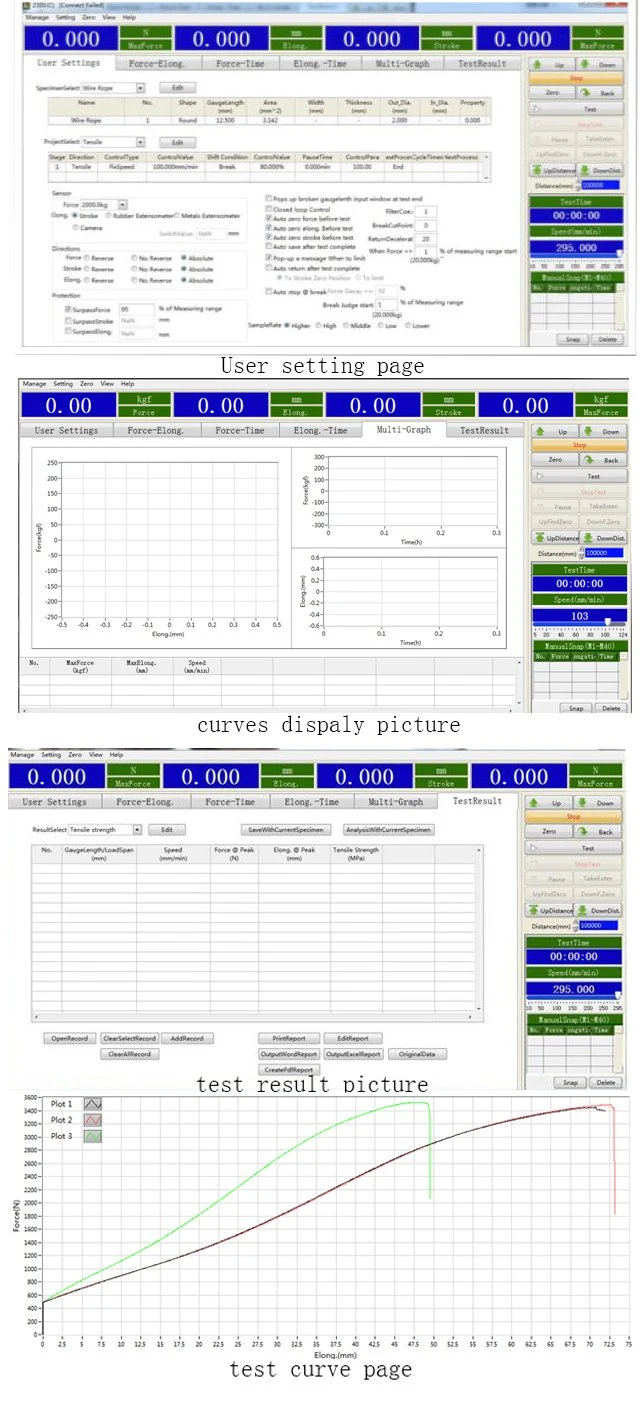 About Us:
HAIDA INTERNATIONAL is a professional manufacturer of various kinds of testing equipments over 24 years. HAIDA products are widely used in paper products, packaging, ink printing, adhesive tapes, bags, footwear, leather products, environment, toys, baby products, hardware, electronic products, plastic products, rubber products and other industries, and applicable to all scientific research units, quality inspection institutions and academic fields.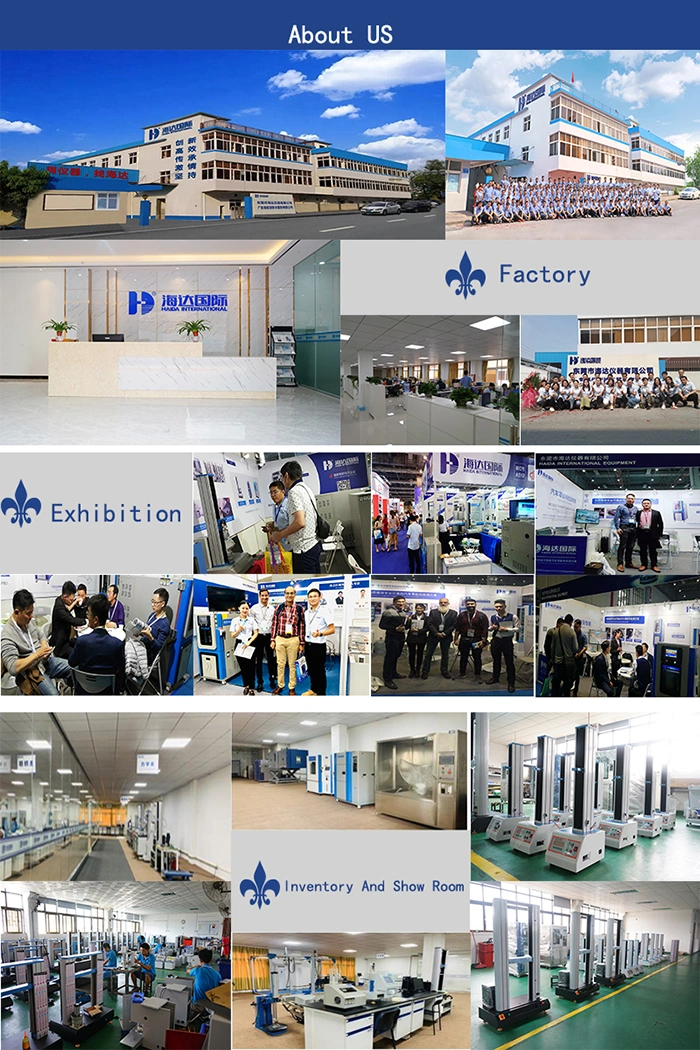 Why choose us?
1. Considerate Service Different countries plugs, manually change the-voltage from 110V to 220V, insurance indicator.
2.Excellent After sale Service:
18 months warranty. Besides, we can help you to repair your problem controller freely, even it's not from our factory. What you need to do is to send us the controller.
3.Commitment:
We will sign a letter of commitment while we sign the contract, which will improve your confidence to us.
4.Good Packaging:
Simulation Animatronic Customer Triceratops are covered with air bubble film before put them into the wooden case, which not only has good shock absorption, impact resistance, heat sealing and also has the advantages of nontoxic, odorless, moisture corrosion, good transparency etc.