TOPCOD Humidity Indicator Card (HIC)
Humidity Indicating Cards are the most accurate cards available in the market today. They are often used in conjunction with a desiccant and a moisture barrier bag when shipping electronic components.
To provide a simple, reliable, visual indication of the relative humidity within a sealed package or any given environment.
What are they?
Humidity Indicator Cards are small, paper instruments designed to monitor relative humidity levels. Available in numerous configurations, cards indicate relative humidities as low as 5 percent and as high as 95 percent, depending on the application and need.
There are two main types of humidity indicator cards:
reversible
and
irreversible
. Reversible humidity indicator cards work much like a thermometer, fluctuating to indicate the current relative humidity level. Maximum, or irreversible cards are designed to indicate the highest relative humidity level to which goods have been exposed.

Why use them?
High relative humidity levels can cause irreparable damage to sensitive equipment, supplies, products and cargo. While many shippers and manufacturers might take the proper steps to protect their products from moisture damage, such as using desiccants, it is sometimes difficult to know how effective those steps are. Some products, such as electronic goods, often show no visual sign of moisture damage, while desiccants may reach their absorption capacity before users realize they need to be replaced.
Humidity indicator cards help provide visual proof of the relative humidity level within a given environment. If the card indicates high levels of humidity, users know to replace their desiccant bags and check their products for possible damage.
Available configurations:
HICs are available in many configurations and can be customized for any number of applications. It meets military specifications (Mil-I-8835 and Mil-Std-2073- 1D Method 50) and JEDEC standards (J-STD-033A and anticipated revision J-STD-033B). One-spot, three-spot, four-spot and six-spot cards are currently available, in a range of customizable humidity levels.

Specifications:
Description

Characteristics

Indicates

10%, 20%, 30%, 40%, 50%, 60% relative humidity

Material

White Blotting Paper 300 g/m2

Dimensions

105mm x 37mm

Printing

Heavy Black on White

Packaging

260 pcs per tin can,p

acked by seal bag and tin can

Standards

JEDEC J-STD-033

Shelf Life

2 years from date of manufacture provided container is not opened or damaged

Storage Condition

Keep in dry area away from sunlight under normal temperature
condition (10 °C ~ 40°C)
Typical applications:
Industries: Semiconductors, Electronics, Military, Industrial
Semiconductors

Electronics

Military components

Optical instruments

Preservation packaging

Bulk Packaging

Metals/Automotive parts

Produce

Museums and artifacts

Diagnostics
TOPCOD Humidity Indicator Card Type: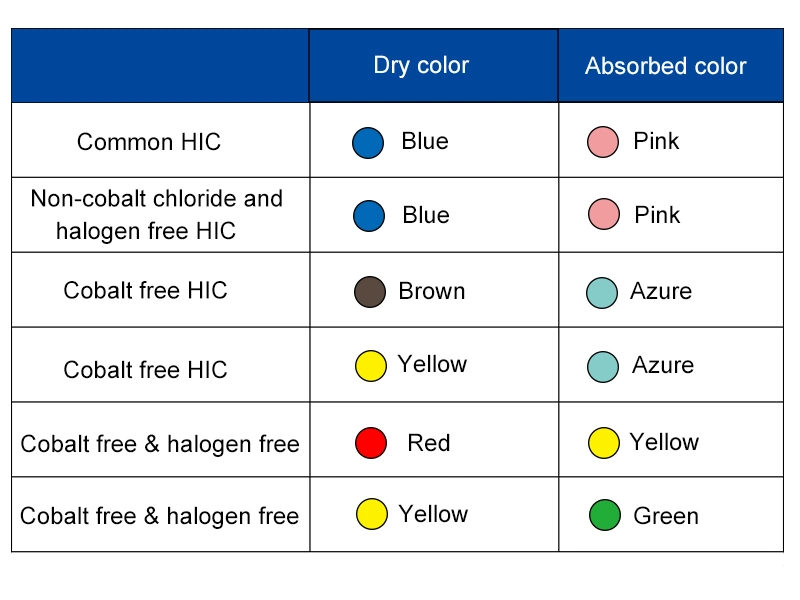 Dot Type

Card Size
(L*Hmm)
Packing
(PCS/Bag/Can/Ctn)
Carton Size
(L*H*Wmm)

1 dot

45X55

4000/200/20/1

550X230X230

2 dots

50X75

5000/500/10/1

500X130X100

3 dots

50X75

4000/200/20/1

550X550X12O

4 dots

50X75

5000/250/25/1

550X550X12O

5 dots

55X90

5000/250/25/1

550X335X280

6 dots

105X37

5200/260/20/1

550X230X270

REVERSIBLE CARDS:
1.Usage Requirements
Humidity indicator spots change from blue (dry) to pink (humid) as relative humidity changes.
Current relative humidity is indicated by a lavender color.
Indicator spots will change within eight hours of being exposed to a change in relative humidity.

Humidity indicator spots are reversible. Pink spots will change back to blue when the volume of air is dried. Pink or lavender spots can be returned to blue by placing them in a sealed container with one unit (33 grams) of desiccant for 48 hours.
The highest humidity indicator spot should be blue before the card is put to use.
The humidity indicator card will be at its most accurate when used at a temperature of 73°F (23°C).
Avoid contact with indicator spots. Wash any irritated areas with clean water.
2.Storage and Handling
When storing, keep indicators in their original container, sealed with a desiccant if possible.
Replace desiccant after container is opened three times.
Store in a cool, dry area.
Keep indicators away from water or steam.
Keep away from ammonia gases, which will render the indicators useless.
MAXIMUM/IRREVERSIBLE CARDS
1.Usage Requirements
Each level of humidity is represented by a blue crystal.
The blue crystal will dissolve into an unmistakable large blue spot when its indicated humidity level has been reached for more than 24 hours.
2.Storage and Handling
When storing, keep indicators in their original container.
Do not open individual bags until ready for use.
Store in a cool, dry area.
For TOPCOD
Why did you choose us?
Why choose us?
1-18 years experience in desiccant industry,including 1500-plus customers as far as 2019. Topcod has already established long-term cooperation with more than 100 well-known enterprises and brands.

There are 1500-plus customers as far as 2019. Topcod has already established long-term cooperation with more than 100 well-known enterprises and brands.

We were established in 2004, and set up branches in Shenzhen, Shunde, and Germany. We are a high-tech enterprise integrating scientific research, production, marketing, technical services, packaging consulting, quality testing, and providing solutions.
2-OEM/ODM available.
3-Eco-friendly.
4-Free sample and fast delivery time
5-SGS, MSDS, REACH, RoHS, DMF free approval. Most importantly, we have silica gel REACH registration.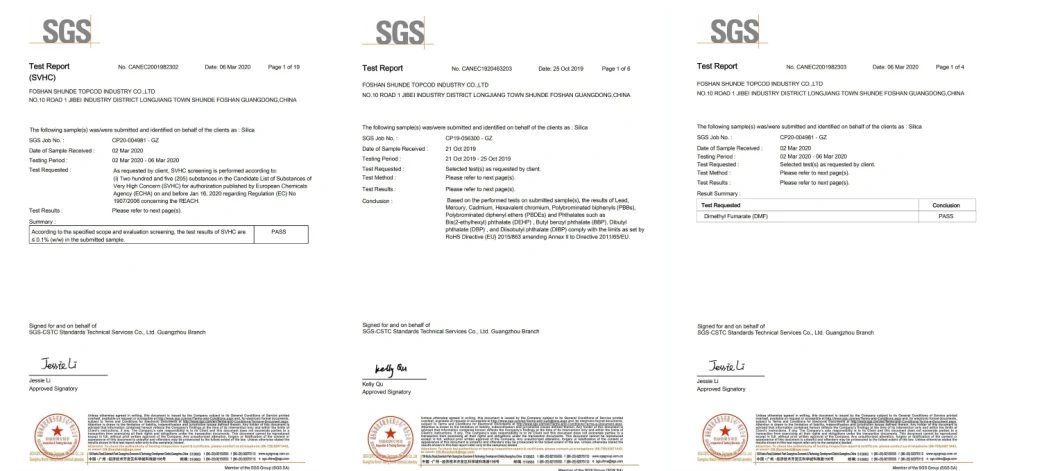 6-Technique research development---Participate in formulating and revising industry standard and national standard about desiccants & oxygen absorber, organizing colloquias with leading enterprises in various industries, providing professional solutions.

7-Independent research and develop wrapping paper of desiccants---Detuch paper(which is eco-friendly, water-proof, dust-proof, smooth, lint-free)
8-Workshop Display - more than 200 desiccants' machines. Foshan, Shanghai, Shenzhen, HongKong, Germany all we have set sales and branch services can satisfy your requirement.
Lab and Workshop display:



TOPCOD always adhere to the belief that,
Only improve and explore the technology,
Can we mrrt customers needs,
Can we keep pace the times,
Can we lead the way in this industry all the time......

Owns advanced mechanized production line
Combines R&D, production and sale together

Other product range:
Industrial desiccant (silica gel desiccant / montmorillonite desiccant / activated clay desiccant);
Food & pharmaceutical grade desiccant;
Deoxidizer (Oxygen scravenger/absorber);
Activated carbon deodorant;
Humidity Indicator Card (HIC);
Esd aluminum foil bag / Vacuum bag / VCI bag / rust proof bag (film);



Product quality meets requirements!!!
Hurry and contact us!